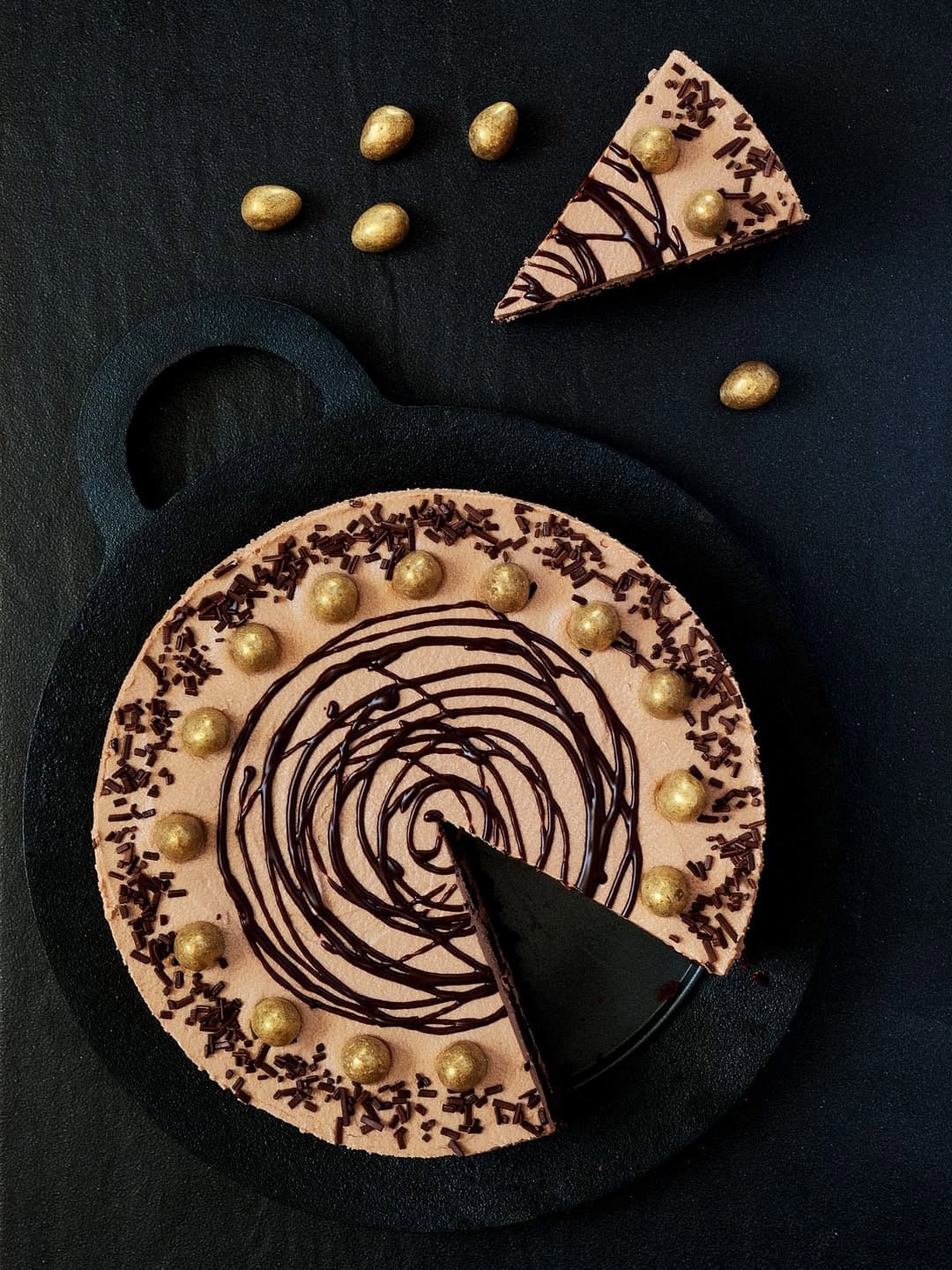 Prep Time

40 min

Cook Time

45 min

Total Time

1 hr 25 min

Yield

10
Ingredients
Sponge:
250 g dark chocolate (or 125g dark chocolate and 125g milk chocolate)
3 large eggs + 1 egg yolk
250 g unsalted butter
250 g caster sugar
70 g self-raising flour
40 g cocoa powder
pinch of salt
Filling:
100 g unsalted butter
100 g Philadelphia or cream cheese
150 g icing sugar
100 g milk chocolate
200 ml whipping cream
Decorations:
30 g dark chocolate melted
chocolate sprinkles
Galaxy Golden chocolate eggs
Method
1
DARK CHOCOLATE BROWNIE SPONGE:
2
Pre-heat the oven to 180C. Line a 24 x 24 cm baking tin with baking paper.
3
Melt the 200g of chocolate slowly in a bowl over a pan of simmering water, stirring occasionally. Once melted remove from the heat and let it cool.
4
Break remaining 50 grams of chocolate into chips.
5
In another bowl, beat the butter and sugar until light and fluffy. Then gradually add eggs into the mixture, beat well between each addition. Beat for 5 minutes until butter gets a nice silky sheen and increases in volume.
6
Combine the dry ingredients (cocoa powder, flour, salt) together in a separate bowl. Fold the mix and chocolate chips gently into the wet mixture.
7
Pour the mixture into the prepared tin.
8
Bake in the oven for about 45 minutes or until firm to the touch. Cut the cake once it is completely cold.
10
Make a chocolate brownie sponge using the method above. I baked my cake in a 24 cm diameter round tin.
11
Once baked remove the cake from the tin and let it cool down.
12
Then prepare the filling – whip the cream and set aside, leave at room temperature.
13
Melt the chocolate in a bowl over a pan of hot water. Let it cool.
14
Beat butter and sugar together with a mixer until smooth. Gradually add Philadelphia. 0nce properly incorporated gradually add cooled melted chocolate.
15
Stop the mixer and slowly and gently fold the whipped cream in.
16
When the sponge is completely cold, cut it horizontally in half and return the bottom half to the baking tin.
17
Spread the half of the filling on top of it. Then cover it with the other piece of sponge and spread the reaming filling over the top.
18
At last, decorate the top of the cake to your desire. I decorated mine with some melted chocolate, sprinkles and golden chocolate eggs.
19
Tip: Let the cake to set in the fridge before removing it from the tin and cutting.
This week my younger son's nursery held a cake sale to support cancer research and I wanted to contribute to it. I decided to make the same cake like the one I made for my older son's Avenger party in February as we all really enjoyed it. I especially like a slightly bitter gooey taste of dark chocolate brownie next to light, fluffy and creamy taste of the cake filling.
We are all in Easter mood here so I changed the decorations a bit and made the cake more Easter themed.
This rich chocolate brownie sponge is very nice on its own and tastes delicious with coffee or a glass of milk. But for special occasions, like my son birthday or the cake sale, I decided to turn it into a cake with a nice chocolate cream filling and decorations on the top. It transforms it into more of a celebration cake.
I had fun making this cake with help from my younger son who enjoyed all the mixing,  stirring, folding and especially chocolate melting. His favourite part was tasting the melted chocolate before adding it to our mixture.
He couldn't wait to take the cake to the nursery and show it to everyone. He was very proud he helped me to make it.