Meatballs in Tomato Sauce
Tender and juicy meatballs baked in the oven, served with delicious tomato sauce.
Meatballs in Tomato Sauce
Tender and juicy meatballs baked in the oven, served with delicious tomato sauce.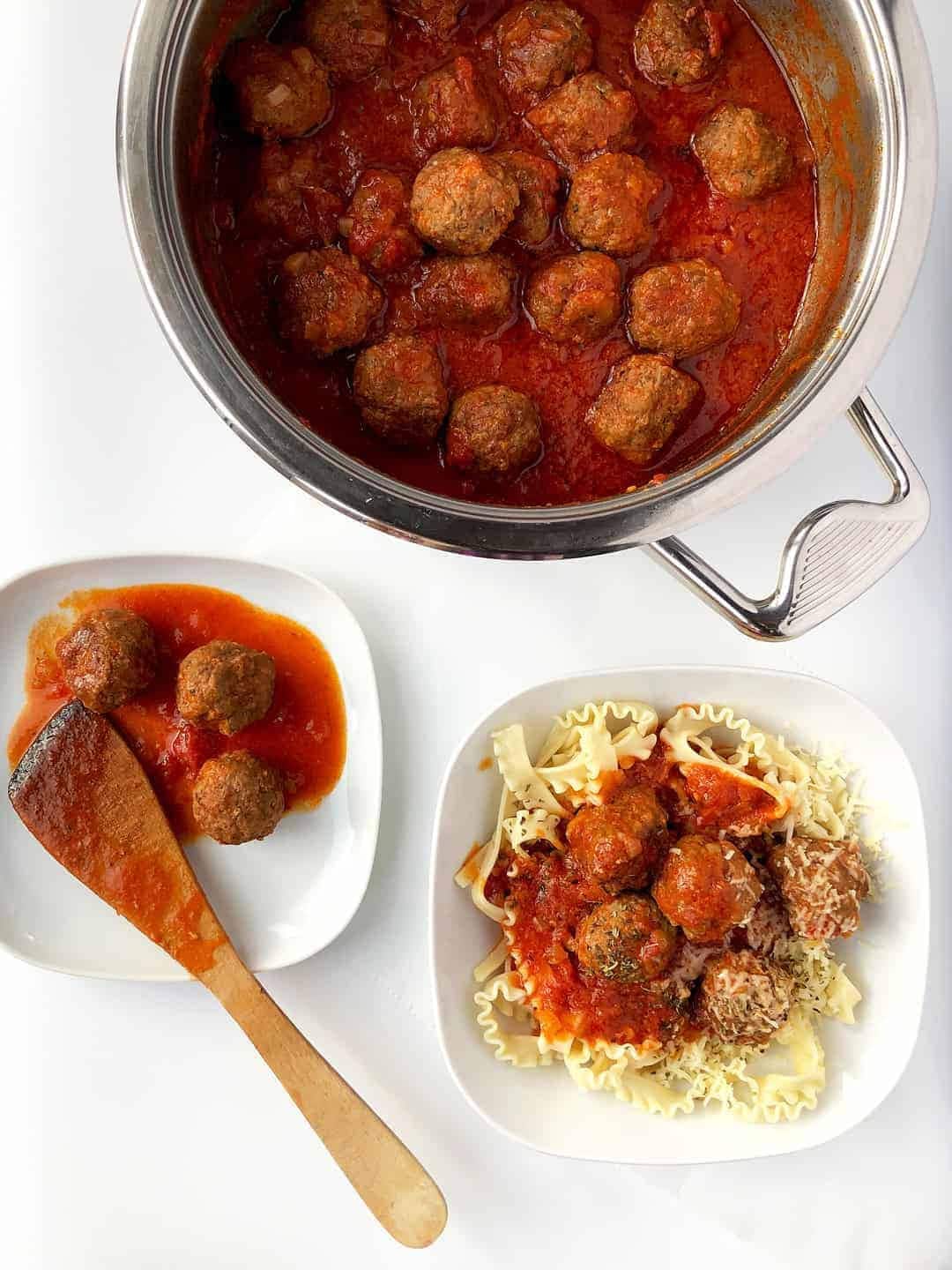 Prep Time

25 min

Cook Time

25 min

Total Time

50 min

Yield

6

Energy

469 cal
Ingredients
Meatballs:
1kg minced beef
2 eggs
1 1/2 tbs dry oregano
6 garlic cloves (crushed)
60 g bread crumbs (I use homemade gluten-free breadcrumbs that I make from gluten-free bread in my Vitamix blender)
180 ml milk (I use lacto-free milk)
salt
pepper
Tomato sauce:
2 tins of plum tomatoes
2 onions
1.5 tbs sugar
4 tbs ketchup
1 tsp oregano
4 garlic cloves (crushed or thinly chopped)
olive oil for frying
Method
How to make homemade meatballs:
1
Soak breadcrumbs in milk for 10 minutes.
3
Tip all ingredients for meatballs including crushed garlic, soaked breadcrumbs and eggs into a bowl and gently combine it all.
4
Make approximately 30 meatballs (45 – 50 g/each).
5
Preheat the oven to 200°C (400°F).
6
Place the meatballs next to each other (leave a small space between them) on a tray and baked them for 20 – 25 minutes. My meatballs are usually ready in 20 minutes but the time my vary for different ovens.
7
While the meatballs are in the oven, prepare the tomato sauce.
9
Heat the oil in the pan and fry onion first until golden.
10
Add tomatoes (If you are using whole plum tomatoes it's better to chop them before adding them to the pan. If you don't mind bigger chunks of tomatoes in the sauce you can crush them with a wooden spoon once they are cooking.)
11
Add the rest of ingredients in including the crushed or thinly chopped garlic, sugar, ketchup and oregano. 
13
Let the sauce reduce on medium heat for 15 – 20 minutes.
14
The meatballs in the oven will shrink slightly and release some juices (mostly fat). To enhance the tomato sauce taste with some meat flavours I mix the meatballs and some juices from the tray with the tomato sauce before serving. 
Nutrition Facts

Amount per serving

Calories

469

% Daily Value*

Total Fat

24 g

30.77%

Saturated Fat

8 g

40%

Polyunsaturated Fat

1 g

Monounsaturated Fat

3 g

Cholesterol

169 mg

56.33%

Sodium

351 mg

15.26%

Total Carbohydrate

22 g

8%

Dietary Fiber

2 g

7.14%

Total Sugars

11 g

Protein

38 g

76%

Potassium

116 mg

2.47%

*Percent Daily Values are based on a 2,000 calorie diet. Your daily values may be higher or lower depending on your calorie needs.
My children are big meatballs fans. One of them prefers them served with rice and the younger eats everything with pasta at the moment.  Making meatballs is quite straight forward and easy to do if you are not worried to get your hands dirty. The method isn't complicated.
Meatballs are typically made from beef or mix of beef and pork but you can experiment with other types of meat. There are recipes with a long list of ingredients but I like keeping things simple. To make these tender, soft meatballs you need to mix 100% mince beef with 7 additional ingredients (eggs, breadcrumbs, milk, oregano, garlic, salt and pepper). You possibly have most of them in your cupboard already. From the above recipe, I usually make 30 meatballs – approx 45 -50 g each. This amount makes 2 dinners for us (2 adults and 2 young children – 5 meatballs per adult).
How to make moist, soft meatballs
If you are aiming for tender, juicy meatballs always soak the breadcrumbs in milk approx 10 minutes beforehand. It is an important step that will make a change in how soft your meatballs will be so don't skip this one. When combining ingredients together and shaping the balls don't compact the meat too much, be gentle.  And at last, make sure not to leave the meatballs in the oven for too long as they would dry out.
How long to bake meatballs
I place my meatballs next to each other (with a little gap between them) on the tray, put them to a preheated oven to 200°C (400°F) fan and cook them for 20 minutes. They are done once they have a nice brown colour on one side and their internal temperature is 74°C (165°F).
You can choose to fry the meatballs and then cook them directly in tomato sauce but I prefer to bake them in the oven on a tray and make the tomato sauce on the hob. This method is less messy, it's quicker and I can bake all the meatballs on the same tray in one go.
What to eat with meatballs
Meatballs go nicely with a tangy and rich tomato sauce. In this recipe, I'm using my favourite simple homemade tomato sauce with a little addition of ketchup and oregano. Most often, we serve our meatballs with pasta or spaghetti but they are great with rice too.