Chicken Thigh Tray Bake
This tray bake with chicken and chorizo is a super convenient and comforting meal that is always favoured by the whole family.
Chicken Thigh Tray Bake
This tray bake with chicken and chorizo is a super convenient and comforting meal that is always favoured by the whole family.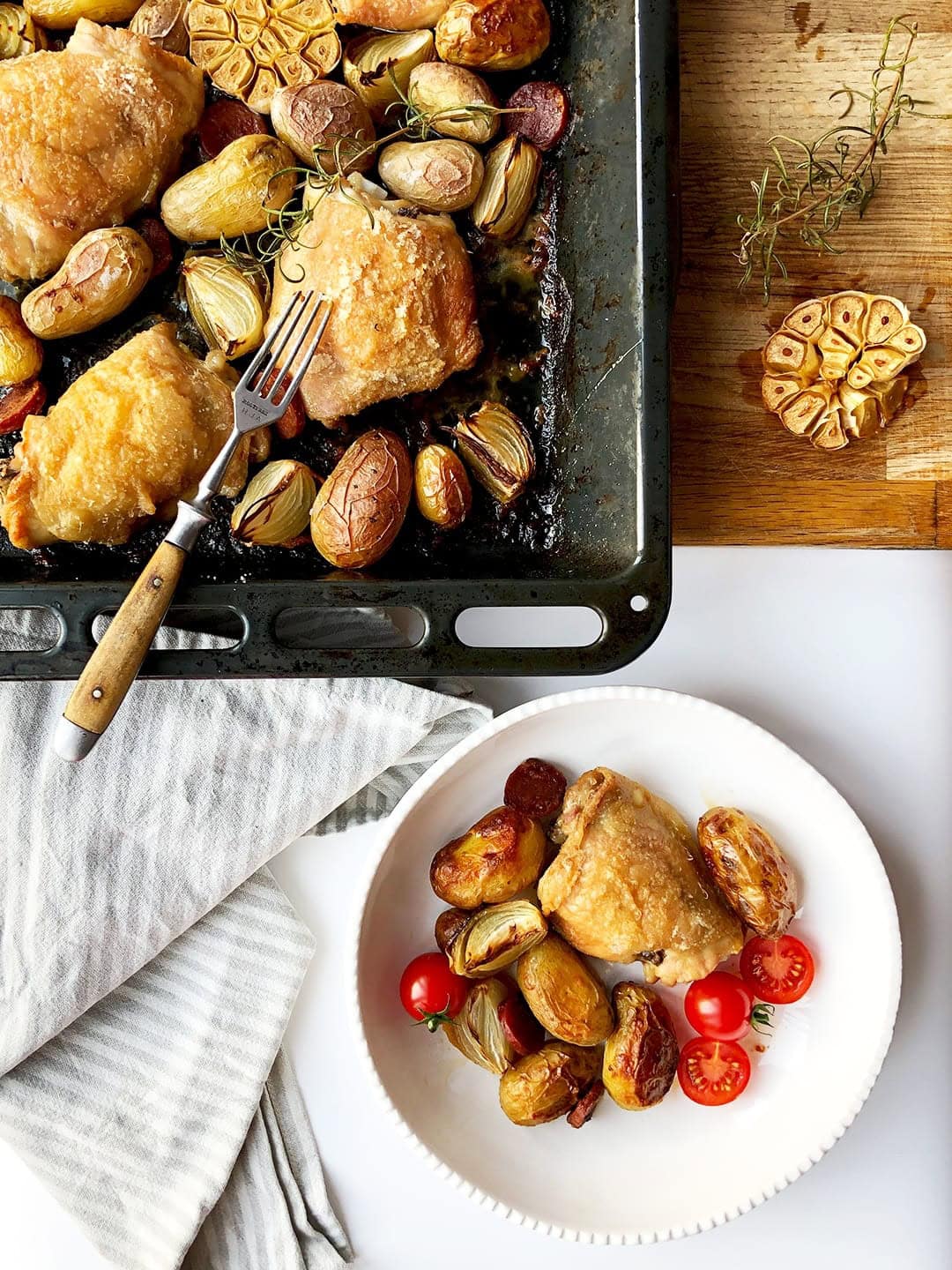 Prep Time

15 min

Cook Time

1 hr

Total Time

1 hr 15 min

Yield

4

Energy

506 cal
Course

Cooking Method

Suitable for Diet
Ingredients
4 chicken thighs (we cook 8 thighs which is more than we need for one meal and it leaves us with leftovers for another dinner, it's saving my time and our energy bill too)
3 onions
1 whole garlic
2 sprigs of fresh rosemary
100g chorizo
500 g charlotte potatoes
salt
20 g butter
Method
2
Cut the garlic in half, across the cloves.
3
Cut the onions into quarters.
4
Slice the chorizo into 5 mm thick pieces.
5
Spread chicken, potatoes and onions onto the large baking tray, season with salt and roast in the preheated oven to 180° C for 30 minutes.
6
After 30 minutes scatter chorizo over the top, put a slice of butter on top of each thigh and add the garlic and rosemary to the tray.
7
Roast for an additional 20 – 30 minutes.
8
Let it rest for 5 minutes before serving.
Nutrition Facts

Amount per serving

Calories

506

% Daily Value*

Total Fat

27 g

34.62%

Saturated Fat

9 g

45%

Polyunsaturated Fat

5 g

Monounsaturated Fat

8 g

Cholesterol

11 mg

3.67%

Sodium

523 mg

22.74%

Total Carbohydrate

27 g

9.82%

Dietary Fiber

3 g

10.71%

Total Sugars

5 g

Protein

38 g

76%

Potassium

116 mg

2.47%

*Percent Daily Values are based on a 2,000 calorie diet. Your daily values may be higher or lower depending on your calorie needs.
Roasted chicken thighs with chorizo and potatoes in the oven is a super convenient comforting meal. There isn't much work involved in this recipe except for preparation. Once it's all in the oven you can sit down and wait for your delicious dinner with a cup of tea and a book.
You can use different parts of chicken for this recipe but I highly recommend using chicken thighs instead of breast meat as the breasts get dry quickly and don't have as much flavour. Drumsticks are ok to use but they don't have the same amount of meat so you need more of them. I just found the thighs to be tastier and juicier even if I leave them in the oven a little bit longer.
The safe internal temperature for roasted thighs is 74° C, which you can reach in around 40 – 45 minutes on 180° C (depends on your oven) but I prefer to have the skin crispier and meat falling off the bone with no force, this is why I leave chicken thighs in the oven for the whole hour.
It's now our routine to make our Sunday roast dinners bigger and always account for some leftovers that I can transform into another tasty meal during the week. When we decide to do chicken we usually pick between this easy tray bake thigh recipe or our whole roasted chicken recipe. Both recipes give me two different types of leftovers. I prefer to use the darker juicier meat from thighs for curry. On the other hand, when we roast the whole chicken I keep the breasts and usually make enchiladas filling from them or scatter them over a salad. I wouldn't use drier, crumbly chicken breast leftovers for making curry but it's all down to personal preference. There isn't right or wrong answer so use your leftovers how you like. The main point is to save yourself some money as well as cooking time and minimize food waste.